Are you ready to start growing your business and drive sales via a new or existing website?
Take a look at the SEO services, content development, copywriting and strategic growth projects we can help you with.
From startup, to local small business, to global corporate. We've got something to suit all types of organisation and business.
Need your FIRST, NEW website?
We'll build it for you in the most search engine-friendly and cost-effective way.
From design, url structure, to content and copy to go-live. We will help you and your business start ranking and get targeted traffic to your website as soon as possible.
Or an upgrade to your existing website?
Are you thinking about upgrading your Content Management System, design, structure and content?
We will plan, write the content and migrate your existing website for you with close to zero impact on operations and existing rankings and traffic.
AFFORDABLE, SEARCH ENGINE-FRIENDLY WEBSITE BUILDS
Whether you need a new website or a refresh for your existing one we'll cover everything – from keyword optimisation and landing page mapping to design to final sign-off.
We'll also provide you with the next steps needed to increase traffic to your website.
P.S. We also offer free SEO advice for startups to help get you started on the right track.
Are you a small/medium-sized business and have an existing, more established website?

From a FREE Website Health Check, to a Comprehensive SEO Audit, we've developed a number of unique:
These packages are designed to be modular -- we don't tie you down to recurring monthly fees -- it's totally up to you when you want order a new one.
Are you an established online business looking for specialist projects, a second opinion or to switch your SEO provider?
We offer both ad-hoc services and report-based analysis that aim toward benchmarking and transforming your SEO and content.
SEO Services - Try us with a FREE Website health check? Our core reports include a full SEO website audit, competitor review and topic and keywords analysis. Or you can just use us for a specific SEO service such as the popular: why is that page outranking ours? granular competitor analysis.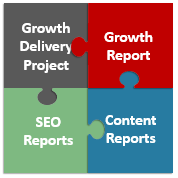 Content Services - Our content reports are designed to integrate and build upon our SEO reports and include a content audit, competitor and industry review and a full content review and gap analysis. Or just ask us for a targeted blog post or website copy.
Growth Strategy & Tactics Report - Here's where we combine all of the above reports and tell you in which direction to go and provide detailed outlines of how to get there.
Growth Delivery Project -  Including SEO, Content and Strategy & Tactics reports plus project scope, planning, KPIs, delivery and review. Full integration with your business strategy, user profiles, journeys and existing website user data.
Want to find out more?
Ask for a quote for an individual, bespoke or the full combination of reports. Or talk to us about any of the SEO services we offer.
We offer very affordable rates for small businesses, please ask for a quote.
Crawling, indexing and page download speed optimisation
Why is that page outranking ours? Competitor analysis
Website and URL structure optimisation
Domain migration and 301 page-to-page mapping.
In-depth industry keyword and topic analysis
Meta descriptions that get click-throughs
Keywords, pages, title tags and h1s optimisation.
Traffic building targeted website content
PR, outreach and linkbuilding campaigns
Backlinks risk assessment and clean-up.
Want to find out more?
The above reports are indicative of the services we offer, please do ask if you want a completely bespoke report.
We offer very affordable rates for small businesses, please ask for a quote.
New website projects: integrating SEO, editorial styling and copy delivery
Traffic building targeted website content and news articles
Serious long-form, in-depth blog posts.
PR, outreach and linkbuilding content concepting and delivery
Meta descriptions that get click throughs
Effective sales and marketing email copy.
PPC ad copy review
PPC ad copy that actually gets clicks
Product and creative video transcripts
Impactful social media posts that get clicks.
Aka The Growth Report.
This report focuses on the Strategy and Tactics needed to deliver growth in the organic channel for your business.
It combines all of the above six reports and their actionable outcomes. It also includes detailed recommendations for the content that needs to be created to achieve growth in the organic channel.
Starts at £1000 - if undertaken without any previous reports.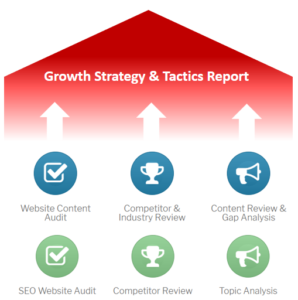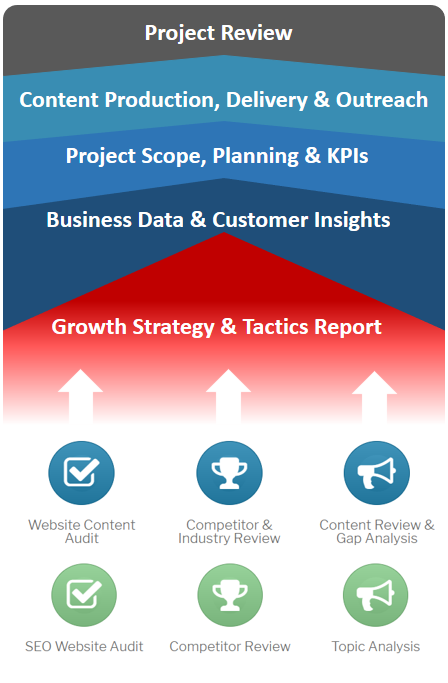 Aka The Growth Project.
The Growth Project contains all of the core reports including Strategy & Tactics and also content concepting, project and outreach campaign planning, delivery of content and a full project review.
We'll work closely with you to make sure it's fully integrated with your business strategy.
Please get in touch to discuss your needs.
Growth Reports and Projects
You can gradually build toward the advanced report or project by choosing individual reports first or, if you're impatient, jump straight in.
Get in touch and let's get down to business.
Experience
16+ years in digital doing SEO, content and copy working for and with small businesses, agencies and FTSE 100 & 250 companies.
Clarity on prices
We deliver your report on-time and invoice for the agreed price even if we end up working for a little more time than we quoted for.
One of the team
Don't want to add to your payroll? We like to roll up our sleeves and get our hands dirty like an employee.
Flexibility of resource
One day a month for onpage SEO tweaks or a six-month website project. It's up to you.