We're highly experienced at delivering carefully-crafted, professional website copywriting for clients across many industry sectors in the UK.
Great content that'll earn more traffic from search engines, engage your users and increase leads and sales.
And being experts in SEO, everything we do is data-driven, thoroughly keyword researched and includes meticulous meta data, smart schema and clever internal linking.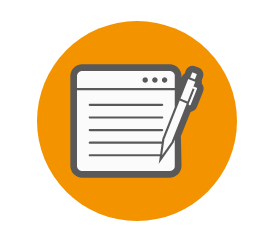 Why hire a copywriter?
Hiring a professional copywriter will bring more benefits to your business than just saving precious time and money.
Authority & Trust - Add authoritativeness to all your marketing assets and earn the trust of potential customers.
Consistent & Accurate - Achieve consistency in tone of voice and eliminate grammatical errors and typos.
Visibility & Traffic - Increase brand awareness, online visibility and generate more targeted traffic to your website.
Leads & Sales - Improve conversion rates and increase sales.
Website Copywriting Services
Take a look at our range of website copywriting services.
Landing Pages
Keyword-Targeted, Feature-Rich
We're experts at carefully interweaving sales messages, product/service features and benefits into compelling landing pages that'll improve organic click-throughs and your conversion rate.
_______________
Ecommerce Product Pages
Traffic-Generating, Conversion-Focused
Are your product pages looking a bit light on copy? We'll add just the right amount of depth in terms of product specs. and sales copy to get you outranking your competitors.
_______________
Evergreen SEO Content
Customer-Focused, Educational
We love delivering large-scale educational content projects that add value to your customer's lives and, year-on-year, will yield targeted traffic to your website.
_______________
Article Writing & Blogging
In-Depth, Helpful & Engaging Content
B-to-B or B-to-C we deliver engaging, business-focused and SEO-targeted blog posts, in depth articles and guides for all types of organisations.
_______________
Pillar Pages
Powerful, Advanced SEO
Pillars are useful pages to create if you have a number of blog posts already written on specific subjects. We'll identify opportunities and deliver the pages for you.
_______________
FAQs
Customer Focused, Friendly
We'll research, write and deliver, ten, twenty, forty+ (it's your choice) FAQ pages that'll engage and educate users, while bringing in targeted traffic to your site.
_______________
Press Releases
Impactful, Newsworthy
Launching a new product? Engage journalists, media professionals and social media influencers with a carefully crafted press release that'll get people talking your business.
_______________
Re-purposing Content
Optimising Existing Content
Reinvigorating content and bringing it to back to life to start generating traffic to your website again.
_______________
Let's START your next content project today
Get in touch and we'll organise a video call to find out more about your SEO copywriting needs.
What does a typical website copywriting project involve?
All website copywriting jobs are unique but most share a common process.
Here are some key questions we ask new clients – and some key points we always communicate.
Getting answers to all, or some, of these questions will help us align expectations and achieve a better outcome for the project.
After all, the client and the copywriter want the same thing – well written, authoritative copy that portrays you as trusted experts in your industry, achieves good keyword rankings and entices your target audience to act.
Note: we'll cover the majority of these questions in a video call consultation and will follow-up with email requests for any key documents or specific pieces of information.
Goals, project management, practicalities and measurement
What do you want us to produce for you and what do you want to achieve from it?
This covers the actual brief for the work to be done and the desired outcome.
Are we producing a new product category landing page, a blog post or a series of educational pages around a single topic? etc.
A goal might be to increase relevant phone calls per week by 10%. Or, to increase the organic search traffic to our website by 10% within six-months.
How will this be measured?
While we can help with in-depth analysis of traffic and SEO keyword data, have you got an internal process already set-up to help measure the success of the project?
What is your deadline for this project?
Much depends on the size and scope of the job.
Key point to note:
Once we know enough details about the job and have a deadline, we will then give you a formal quote for the whole project and a delivery date estimate.
A really good product category landing page can take a day to research and write – with time added on for sign-off and amends. Typically, we don't charge for amends.
Do you have any brand and content guidelines – or any legal or regulatory requirements we need to know about?
Please supply them, we promise we won't share them with anyone. We're always happy to sign any NDAs, if required.
We just need to know as much as possible about the nuances of what you can say, and can't say within your industry.
Do you have Google Analytics (other web analytics tools are available) and Google Search Console plugged in?
If no – we can help you to sort this.
If yes, we'll need to get access to look at the data, please.
Do you have any specific SEO goals or requirements?
As SEO specialists we will offer guidance on these at every step of the way.
If it's a specific product or service, who is the most knowledgeable person we can talk to in your organisation about it?
A good copywriter will always know how to tap into readily available sources of information.
Who is going to be our main point of contact for the sign-off process?
Once the job is agreed, website copywriting is a relatively simple process.
We can work in MS Word or Google Docs. It's up to you.
We will do our research then produce a first draft and send it to you for your feedback and any amends, we then produce a second draft and it goes back to you again.
Repeat, until final sign-off.
Final sign-off is the desired outcome for any copywriting project, as it means that both copywriter and client are satisfied with the work produced.
Key point to note:
In order to produce the best possible first draft, the copywriter will need to spend time doing research, which might include any, or all of:
Reading related organisational documents including technical specifications, sales literature and brand positioning and tone-of-voice guidelines.
Reading any relevant, in-depth industry research papers/intelligence you might have exclusive access to.
Talking to the experts within your organisation about the features of a product or service.
Looking at the competitive landscape within your industry.
Interviewing existing clients - for in-depth case studies, testimonials etc.
About your business, brand positioning, products/services and competitors
We don't always ask all of these questions, our approach will differ depending on the needs of each client.
While we want as many facts about your business and products and services as possible, we also want to get a feel for your brand positioning and where you want to get to – your wider business goals.
Describe what your business is and what it stands for?
What is the main product and service you offer as a business?
Can we get access to any or all of your brand-related documents?
If you haven't got any formal brand documents, please describe how you want your brand to come across to consumers?
Are there any companies you admire and want to be like?
What do you want people to think when they see your brand, or interact with your website?
We're trying to get a sense of your brand positioning.
Who are your main target audiences at the moment?
Do you have any qualitative or quantitative research available on what your target audience thinks about your brand?
Who is your ideal customer?
This will help us plot a course from where you are now to where you want to be.
What does your product or service do that makes life better for people? Or, what specific problem does your product or service solve?
More importantly, how is your product unique in your industry? How is the quality of your product or service different from your competitors?
What is the unique value proposition of your business, product or service?
Do you have technical data we can use to quickly show consumers how effective your product or service is?
Which product or service do you sell the most of?
Which product or service do you make the most profit margin from?
What are the main pain points for customers in your industry?
Who are your top five main competitors?
Please supply website urls and/or any intelligence you've formally gathered.
What is the primary call-to-action (CTA) for this piece of work?
In other words, what do you want the user to do once they've visited the page and read the copy?
This list of questions is by no means exhaustive or prescriptive.
Much of the information will be gleaned from our conversations we have together at the start of, and during the project.
SEO & CONTENT - Related services
All our content and website copywriting services are search-engine friendly.
With over 10 years experience in SEO we also have a number of related content-based services - designed to help you improve your organic rankings even further.
SEO Outreach Campaign Planning & Delivery
Also known as content marketing, we'll work with you to come up with the concept, write the copy, build the landing page, research media targets (websites and social media influencers) and do the outreach.
Website URL Structure & Content Planning
Folder structure or flat urls? What's the best way to structure a website to make sure it becomes a business asset, not a liability?
We will provide you with the framework you'll need for success.
SEO Audits - Content Focused
Alongside taking a look at the technical SEO aspects of your website we'll also do a content audit, benchmarking where you are compared to your competitors and creating an integrated SEO and content plan for you to dominate your sector.
Our SEO Audit Service.
Insightful Keyword Research
Having been in the SEO industry for 10+ years we've gotten quite good at keyword research - whether it's article titles, FAQs or suggestions for adding customer-focused educational content.
We'll crunch all the data and provide realistic keyword targets based on user intent that'll bring the most relevant, cost-effective traffic to your website.
Keyword Research, Targeting & Landing Page Mapping - Onpage SEO
We'll optimise all your key existing urls and website pages for search by crunching the keyword and traffic data and making suggestions and implementing brand new title tags, meta descriptions and h1s.
We'll also make recommendations and implement edits to the copy on the page to make it more search engine friendly.
Let us take your onpage SEO up to the next-level.
Do you want to find out more?
Get in touch and we'll organise a video call to find out more about your SEO copywriting needs.