We specialise in building search engine-friendly websites for small businesses.
Are you looking for your first website? We'll build it for you in the most search engine-friendly and cost-effective way.
Or are you looking to upgrade and migrate your existing website to a fresher design and a more robust and flexible platform?
Either way, we'll cover everything – from keyword optimisation and landing page mapping to design to final sign-off.
Advice on where to get hosting and which domain name to choose – if needed. Start by reading our best web hosting for small business article.
Full launch (or migration) of a Search Engine Optimised website including design, content and all technical work.
Setting up of analytics to help you monitor traffic your website.
In-house training on how to edit and maintain your website.
SEO next steps for how to increase traffic.
Don't worry. If you've already got hosting and a CMS sorted –  and are happy with it – then we're more than happy to work with it too.
We've recently just completed a number of projects with local businesses.
Looking for a new website or an upgrade to your existing one ?
Drop us a line today and we'll come and visit you to discuss your requirements.
SEO WEBSITE BUILD CASE STUDY: SEED PROMOTIONS
Who are they and what do they do?
Seed Promotions are a small business based in Warwickshire who supply plantable, eco friendly promotional products such as branded seed sticks, seed packets and seed paper.
Their environmentally friendly promotional seed products are suitable for the largest of ad campaigns to the simplest of promotions.
What was the brief?
Seed Promotions already had a website but wanted to change their CMS provider – which was free but had limited functionality.
They also wanted a website design refresh to showcase their new product range.
We recommend to all our small business clients who are looking to migrate from a free website builder that they switch to a hosted WordPress solution - with one of the major suppliers.
It's a tried and tested, robust solution, which has the flexibility to grow as any business expands.
Challenges
Seed Promotions' old website used a .html extension on its urls. We had to make a decision on whether to keep this extension or lose it. Thankfully, WordPress is flexible enough to allow you to choose your url extension.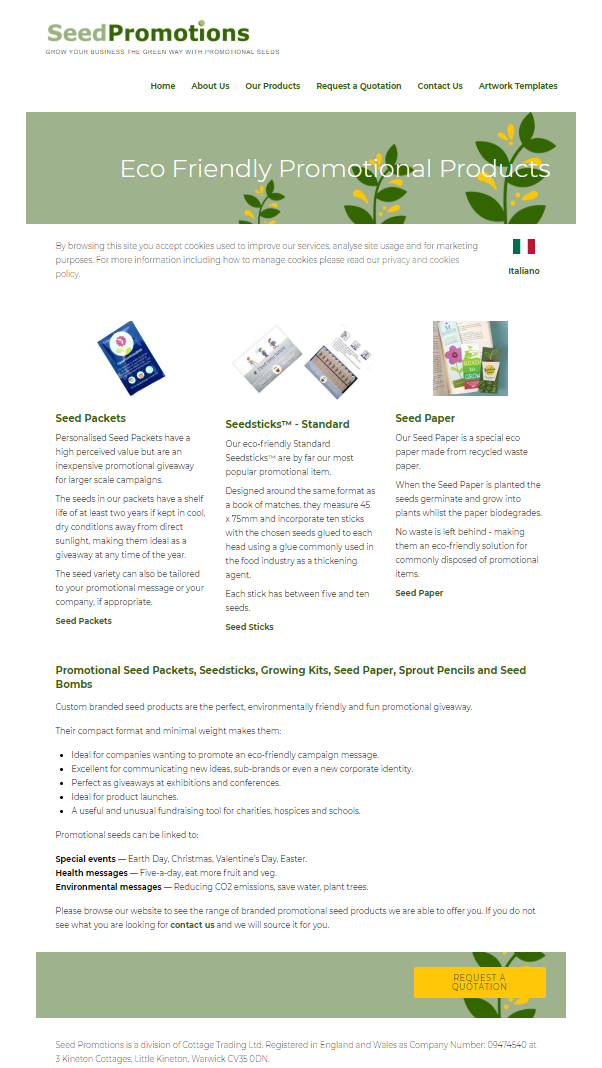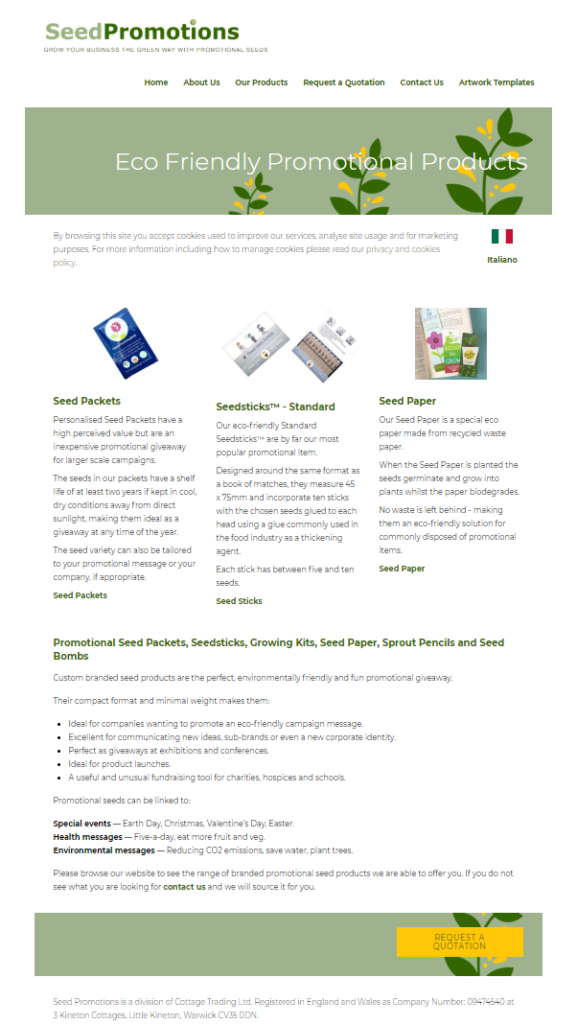 Now, there are various schools of thought here but purely based on the nature of this business and for static, mainly copy only web pages we believe .html extensions are fine– so long as they're used consistently throughout a single website.
Also, Google had already indexed these urls and generally, for any website migration, we like to keep urls the same – as far as possible.
We've found that if we minimise the amount of 301s we reduce the disruption to business operations, keyword rankings and organic traffic.
Website Design, Build and Migration Results
We chose a fresh, minimalist-style design with clear call-to-actions.
We worked with our client's existing brand colours and copy.
We also kept 95% of urls exactly as they were in the old site. Indeed, we only had to change three urls – due to their format not being search-friendly.
This careful attention to detail meant that we were able to keep the business impact of migration down to almost zero.
SEO, Traffic and Rankings Results
According to our software tracking the migration, a significant number of rankings have improved and traffic has been growing.
What's the proof? Taking just one example. Seed Promotions' most popular products are customisable 'seed sticks' – which are shaped like a box of matches containing ten plantable sticks.
As you will see from the screenshot below, we managed to get multiple entries in to the top 10 (1, 2 and 3) AND a Google Knowledge Graph entry, 4.
We managed to dominate the search results at the busiest time of the year for their business.
We know it's been a successful project.